Autumn Apple & Kale Salad
Recipe by Susan Greeley, MS, RDN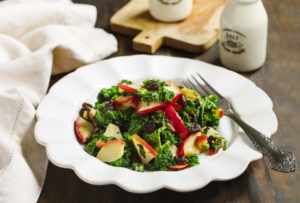 Instructions
In a large bowl:
8 cups kale, stems removed and torn or cut into bite-sized pieces
1 Tbsp extra virgin olive oil

Massage oil through kale until kale softens slightly, about 2 minutes
Add:
1 organic honey crisp apple, cored and chopped into small pieces
1/4 cup raw sunflower seeds
1/4 cup crumbled goat cheese
Dash of salt, pepper and garlic powder
Honey Dijon Dressing
Whisk together:
1 Tbsp raw honey
1 1/2 Tbsp Dijon mustard
3 Tbsp white balsamic vinegar or fresh lemon juice
2 Tbsp olive oil
¼ tsp garlic powder
¼ tsp sea salt
Pour dressing over salad and using hands or tongs, toss greens well until well blended and kale softens. Serve immediately or can be refrigerated overnight. Kale won't wilt and flavor is even better!