(Plant-based) Summery Oat Breakfast Bowl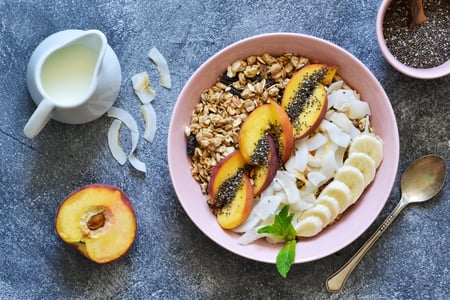 Ingredients:
1/3 cup granola of choice
1 Tbsp ground flaxseed
1 Tbsp unsweetened shredded coconut (optional)
Cinnamon
2/3 cup unsweetened cashew milk (or other plant-based) probiotic drink
1 fresh nectarine or peach, sliced and cut in chunks
¼ cup fresh blueberries
4-5 pecans (or other nut), chopped
Instructions:
Pour granola into a serving bowl and add flaxseed, coconut and cinnamon. Pour on the probiotic drink and stir. Chop the peach and add on top along with blueberries and chopped pecans. Stir and let stand for at least 30 minutes before eating. Enjoy!