Zucchini Soup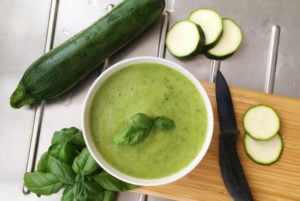 While zucchini and summer squash are abundant, you may be looking to use them in something other than ratatouille, minestrone, zucchini bread or as a simple grilled summer vegetable. Here's a light, "creamy" way to enjoy all of those garden goods, and it freezes well too to have in winter!
2 Tb olive oil
1 small onion, peeled and chopped
3 large cloves garlic, peeled and sliced
1 Tb finely chopped fresh thyme (or 2 tsp dried)
3 medium-sized zucchini (can also use yellow summer squash)
1 ½ tsp salt
1 tsp black pepper
8 cups water (or organic low-sodium vegetable broth)
Parmesan cheese for serving
Instructions
In a large soup pot, heat the oil over medium-low heat. Add onion, garlic and thyme. Let cook until softened, just a few minutes. Cut ends off zucchini and slice into thin rounds, approximately ¼ inch or thinner. Add the zucchini, salt and pepper and let cook another few minutes before adding the water. Bring to a boil, reduce to low heat and let simmer 30 minutes. Remove from heat. Using an immersion blender, puree the soup. Serve hot and garnish with a sprinkle of Parmesan cheese and a drizzle of a finishing oil if desired.