Mediterranean Fish Stew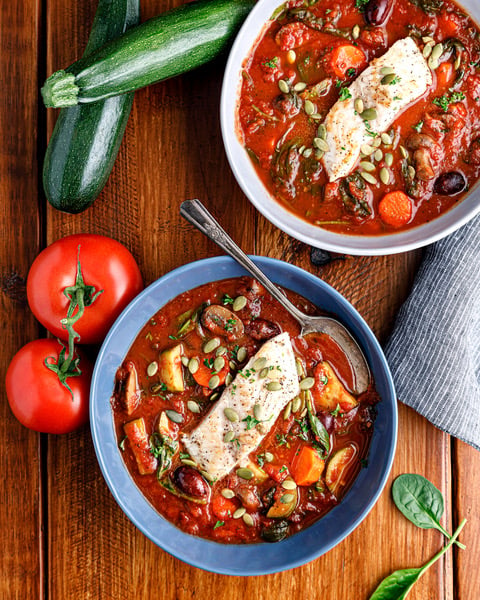 What you eat can help you sleep!
To help improve sleep, most people think about what not to eat or drink. Yet, more importantly, we need to include foods in our diets that are known for nutritional benefits to support healthy sleep. Melatonin, the "sleep hormone" is found naturally occurring in both animal and plant foods, including fish, mushrooms, leafy greens, and seeds. In addition, eating a diet high in fiber and anti-inflammatory fats helps fuel good gut bacteria that are responsible for helping make neurotransmitters that regulate mood and sleep. The minerals magnesium and potassium both help to calm the body and may also help you relax and sleep. If you are wondering how to bring all that together in a meal, we have created this savory fish stew to give you all of those mood-boosting and sleep-supporting ingredients in one delicious dish.
Mediterranean Whitefish Stew
Active Prep Time: 15 mins ∙ Cook Time: 25 mins ∙ Serves: 4
INGREDIENTS
1 1/2 tablespoons extra-virgin olive oil, divided
1 pound cod or any whitefish filets
Salt and pepper
Juice of 1/2 lemon
8 ounces baby bella mushrooms, sliced
3 carrots, peeled and sliced
2 zucchini, sliced
1/2 red onion, diced
2 teaspoons minced garlic
1 (28-ounce) can or carton crushed tomatoes
1 cup vegetable stock
1/2 cup kalamata olives
1/4 cup chopped fresh basil (or 2 tsp dried)
1 teaspoon dried oregano
4 cups fresh spinach
1/4 cup pepitas (shelled pumpkin seeds)
DIRECTIONS
Heat 1 tablespoon of olive oil in a pot over medium heat.
Add the fish to the pot, drizzle with the juice of 1/2 lemon, and lightly season with salt and pepper. Cook for 3 minutes on each side, or until the fish easily flakes with a fork. Remove from pot and set aside.
Add the mushrooms, carrots, and remaining 1/2 tablespoon of olive oil to the pot and sauté 5 minutes.
Add the zucchini, red onion, and garlic to the pot and sauté an additional 3 minutes.
Stir in crushed tomatoes, vegetable stock, olives, basil, and oregano and bring up to a simmer. Reduce heat to low and let simmer 10 minutes.
Stir in spinach and let simmer 1 additional minute, to wilt.
Chop or flake the cooked fish and stir into the stew, or serve the stew topped with larger pieces of the cooked fish.
Season with salt and pepper to taste.
To serve, sprinkle each bowl with 1 tablespoon pepitas.

Helpful Tips
This can be made vegetarian by stirring in 2 cups of cooked lentils in place of the fish.
Calories per serving: 355 ∙ Fat: 13g ∙ Net Carbs: 23g ∙ Fiber: 8.5g ∙ Sugars: 13g ∙ Protein: 30.5g