Mixed Greens with Grilled Peaches and Fennel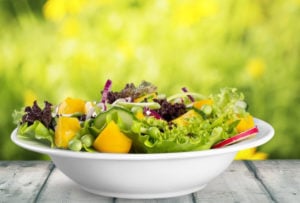 2 large peaches (soft but still firm – not over or under ripe)
1 small fennel bulb, ends cut off and sliced into large, thick slices for grilling
1 Tb avocado oil for grilling (recommended, but can use other oil of choice)
6 cups mixed greens (baby kale, baby lettuces, spinach or another green of your choice)
1 cup sliced heirloom cherry tomatoes
¼ cup crumbled goat cheese (optional)
2 Tb olive oil
2 Tb balsamic vinegar
¼ tsp salt
½ tsp sugar
Instructions
Start your grill, making sure grates are clean. Once heated, lower the flame to lowest level.
Slice peaches in half, then remove pits. Slice peaches in approximately ¼" slices for grilling. Brush or rub all peach and fennel pieces with avocado oil. (Don't worry if peaches break in half.)
Place fennel on the grill and add the peaches after about 5 minutes. Let both cook until softened and start to brown/caramelize lightly before turning. Do the same on the other side. Fennel may take longer to cook, peaches are quick. Keep the flame low and cook until all are browned, softened, and have begun to caramelize, but don't let peaches become too soft or burned.
Place mixed greens in a large serving bowl. Add tomatoes and cheese, then cut up the peaches and fennel and add to salad. Whisk together oil, vinegar, salt and sugar, then drizzle over the salad. Toss well and serve immediately.
Meal suggestion: Enjoy as a side with grilled salmon and a cup of zucchini soup!