Pearl Couscous Primavera with Herb Pesto
by Susan Greeley, MS, RDN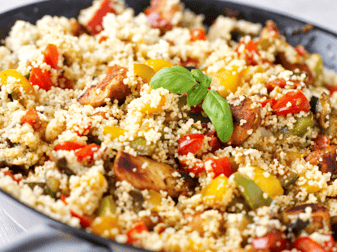 Spring vegetables abound these days! It's easy to find locally grown produce, such as asparagus, peas, mushrooms, zucchini and a variety of herbs that truly elevate both the flavor and nutritional value of every dish! Pearl (Israeli) couscous is a great vehicle for this mix of great springtime garden goods. Make the following recipe as is or put your own spin on it with any combination of vegetables.
Ingredients
2 cups dry pearl couscous
2 Tb avocado or olive oil
2 summer squash (1 green, 1 yellow)
8 spears asparagus
3 cups chopped fresh mushrooms (any)
1 cup sliced cherry or grape tomatoes
¼ cup chopped fresh chives
½ tsp salt
½ cup chopped raw or toasted pecans (or other nut), optional
½ cup crumbled goat cheese or feta, optional
Mint-Parsley Pesto
¼ cup packed fresh Italian parsley
¼ cup fresh mint leaves
1 Clove garlic, peeled
3 Tb olive oil (more if needed)
¼ tsp salt
Juice of ½ fresh lemon
Instructions:
Bring 3 cups water to a boil with ½ tsp salt, then add the couscous, cover and reduce heat to low. Let cook, allowing couscous to absorb the water, about 12-15 minutes. While couscous is cooking, prepare the vegetables and pesto (below.)
Remove couscous from heat and let stand to further absorb water. To make sure the couscous is not sticky, after cooking you can heat couscous in a large pan with a tsp of olive oil and toss it around for several minutes until all moisture is removed and couscous grains do not stick.
Wash, cut and prepare vegetables: Slice squash in quarters and cut in small pieces. Cut ends off asparagus and cut in ¼" pieces. Slice mushrooms and cut tomatoes in half.
In a large pan, heat oil over medium heat. Add squash and cook for 4 to 5 minutes. Add asparagus and cook for 2 more minutes before adding mushrooms and tomatoes. Add chives and salt and let vegetables cook another 3 or 4 minutes on low-medium heat.
Make the pesto:
Place all ingredients in a food processor and blend until smooth. Use more or less of each herb or replace with other herbs, such as basil, as desired. Can add more garlic as well.
Place cooked couscous in a large serving bowl. Add the vegetables and toss together. Pour pesto over and stir well. Enjoy! Can be refrigerated for several hours or overnight before serving.
Meal suggestion: Enjoy as a vegetarian main dish over a bed of leafy greens, topped with nuts and cheese and a drizzle of olive oil, or serve as a side dish with grilled meat of choice and a green salad!