Spring Salad Recipe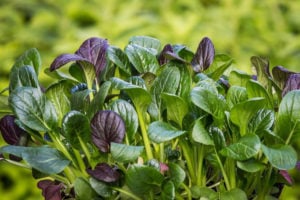 Enjoying some fresh-from-the-garden produce that is seasonal and local creates dishes that are fresher, tastier and more nutritious than ones made with ingredients out of season. Enjoy this salad with any variety of greens and other garden goodies!
8 cups raw spinach
1 cup pea shoots
¼ chopped garlic scapes and/or scallion
¼ cup toasted walnuts (or other nut)
1 cup sliced raw or sautéed wild mushrooms
¼ cup fresh mint pesto
Salt & pepper to taste
Wash spinach and put in serving bowl and add pea shoots, scapes, scallions and walnuts.
Add the mushrooms, or, if sautéing them, do that next:
Heat 1 Tbsp butter in a saucepan over low/medium heat, add the mushrooms and let cook slowly until browned. Add to the spinach.
Toss well with pesto (recipe below.)
Salt & pepper to taste. Serve immediately.
Mint Pesto
1 cup fresh mint leaves
1 cup fresh basil leaves
1 large garlic clove, peeled
¼ cup chopped walnuts or pine nuts or raw cashews
¼ cup olive oil
2 Tbsp fresh lemon juice
Pinch of salt to taste
Combine all ingredients in a food processor and blend until smooth.
Recipes by Susan Greeley, MS, RDN