Summery Mocktails for Better Sleep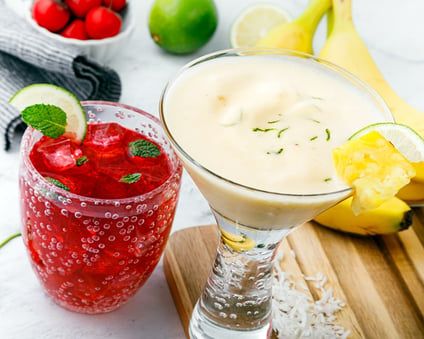 Sipping a cocktail with dinner to unwind at the end of the day is pleasurable but often leads to poor sleep. These two mocktails are the perfect way to have your evening drink which can help put your mind at ease and relax your body, and they may also help you get a great night's sleep! The trend toward alcohol-free drinks is catching on, as science and experience show that alcohol often impairs sleep, which in turn negatively impacts how we feel and function during the day.
Celebrate Memorial Day and kick off summer with some refreshing mocktails that give you sleep-promoting nutrients, including potassium and magnesium found in both tasty drinks. Dark cherry juice is also a source of natural melatonin, and recent research suggests drinking dark cherry juice may help adults with insomnia sleep better.
No matter the reason or occasion, these refreshing and delicious drinks are sure to please!
Tart Cherry Fizz
Active Prep Time: 5 mins ∙ Serves: 2
INGREDIENTS
1/4 cup tart cherry juice

Juice of 1/2 lime

12 ounces sparkling water

Honey, to taste, optional

Ice

Fresh mint leaves
DIRECTIONS
Stir or shake together cherry juice, lime juice, and sparkling water.

If desired, sweeten with honey to taste.

Pour over ice and stir or muddle in a few fresh mint leaves before serving.
Calories per serving: 20 ∙ Fat: 0g ∙ Net Carbs: 4.5g ∙ Fiber: 0g ∙ Sugars: 4g ∙ Protein: 0.5g
Frozen Banana Colada
INGREDIENTS
1 banana, peeled, sliced, and frozen

4 ice cubes

1/2 cup 100% pineapple juice

1/2 cup light coconut milk

Juice of 1/2 lime
DIRECTIONS
Add all ingredients to a blender and blend until smooth.

Split between two glasses to serve.
Calories per serving: 125 ∙ Fat: 4g ∙ Net Carbs: 21.5g ∙ Fiber: 1.5g ∙ Sugars: 14.5g ∙ Protein: 1g