Pasta Primavera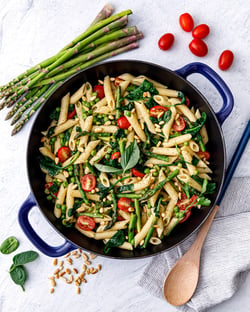 Active Prep Time: 15 mins ∙ Cook Time: 20 mins ∙ Serves: 4
Every March we celebrate both the start of spring and National Nutrition Month! This year's theme is "Fuel for the Future," with a focus on eating to nourish ourselves during every phase of life while protecting our environment.
Here is a way to green up your plate with a plant-focused, delicious Pasta Primavera that is packed with springtime green vegetables and herbs. Grape tomatoes add additional color, flavor, and antioxidants, while introducing a bit of fresh tomato juice into the simple pan sauce of olive oil, garlic, oregano, basil, and parsley. Don't forget the final touch of toasted pine nuts for a complementary crunch!
INGREDIENTS
8 ounces multigrain protein pasta or chickpea pasta
2 tablespoons extra-virgin olive oil
8 ounces asparagus, ends trimmed and cut into 3-inch lengths
2/3 cup fresh or frozen peas
1 tablespoon minced garlic
1 teaspoon dried oregano
1/2 teaspoon onion powder
8 cups fresh spinach
1/2 cup fresh basil, chopped
1/4 cup fresh parsley, chopped
1 cup grape tomatoes, halved
Salt and pepper, to taste
2 tablespoons toasted pine nuts, optional
DIRECTIONS
Boil pasta in salted water, according to the package directions. Reserve 1 cup of the pasta water before draining.
Meanwhile, heat olive oil in a large skillet or pot over medium heat. Add asparagus and sauté 5 minutes.
Stir in peas, garlic, oregano, and onion powder and sauté about 3 minutes.
Stir in spinach, basil, and parsley and sauté until the spinach has cooked down, about 3 minutes.
Stir in the cooked pasta, halved tomatoes, and reserved cup of pasta cooking water. Stirring constantly, bring up to a simmer and cook, just until the water begins to thicken into a slightly creamy sauce.
Season with salt and a generous amount of pepper to taste before serving topped with toasted pine nuts, if desired.
Helpful Tips
Toast pine nuts by placing in a dry skillet over medium-low heat and, shaking the pan constantly to keep them moving, let cook 4–5 minutes, just until golden brown and fragrant.
Calories per serving: 375 ∙ Fat: 12.5g ∙ Net Carbs: 43g ∙ Fiber: 9.5g ∙ Sugars: 7g ∙ Protein: 17g