Plant-Powered Vegetable Chili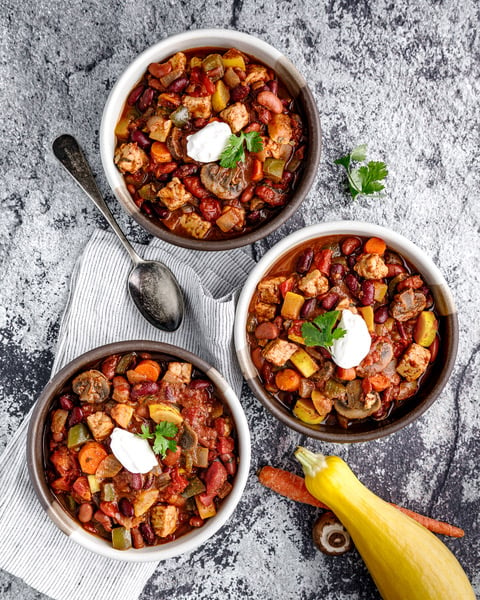 Active Prep Time: 15 mins ∙ Cook Time: 30 mins ∙ Serves: 6
Heart health requires being physically active and fueling your body with nutritious foods that help keep your blood pressure in check and give you great antioxidants as well as fiber from "good carbs" and lean proteins.
To help make that heart-healthy daily diet doable, we have combined all the "right stuff" -- tempeh (soy protein found near the tofu) and vegetables with great spices -- to make this chili recipe just what you need to fuel exercise, maintain and build muscle, and promote overall heart health. Whether you are vegetarian, vegan, or an omnivore looking for a delicious meatless meal option, this easy chili is simply nutritious and delicious!
INGREDIENTS
1 1/2 tablespoons extra-virgin olive oil
8 ounces baby bella mushrooms, sliced
1 yellow onion, peeled and chopped
1 bell pepper, seeded and chopped
3 carrots, peeled and sliced
2 medium yellow squash, chopped
8 ounces tempeh, chopped
2 tablespoons chili powder
1 tablespoon cumin
1 teaspoon each; onion powder, garlic powder, and pepper
1 (28-ounce) can or carton diced tomatoes, with liquid
2 (15.5-ounce) cans kidney beans, drained and rinsed
1/4 cup chopped fresh cilantro, or 1 1/2 tsp dried
1 tablespoon honey, optional
Salt, to taste
DIRECTIONS
Heat olive oil in a pot over medium-high heat.
Add mushrooms, onion, bell pepper, and carrot to the pot and sauté until onions are translucent and mushrooms have softened, about 8 minutes.
Stir in yellow squash, tempeh, and spices and sauté 2 minutes.
Stir in tomatoes, beans, and cilantro and bring to a simmer.
Cover, reduce heat to medium-low, and let simmer 20 minutes, stirring occasionally.
If desired, stir in honey for sweetness to cut the acid of the tomatoes. Season with salt to taste before serving.
Helpful Tips
For a little extra protein and flavor, serve it with a dollop of plain Greek yogurt (or a plant-based sour cream as a vegan option.)
For a spicy kick, stir in a chopped jalapeño or a pinch or two of crushed red pepper flakes when you add the tomatoes.Nutrition information:
Calories per serving: 360 ∙ Fat: 10g ∙ Net Carbs: 35.5g ∙ Fiber: 14.5g ∙ Sugars: 8g ∙ Protein: 22g